10월엔 이벤트가 많습니다!!
갈곳도 많고 해야할 것들도 많고~~ 앜~ 시간은 없고.. T T
Serious film festival
October 4 - 7, 2018
Downtown (0.2 miles north)
Focusing on "our world's pressing issues," Awareness Film Festival screens a wide range of subjects from the environment and social justice to peace and politics at Regal Cinemas L.A. Live 14.
Ticket deal $5.75 (Oct. 6 & 7)

Korean festival
October 4 - 7, 2018 (opens Thurs. 3 p.m.)
Koreatown (2.4 miles NW)
Join 350,000 people celebrating Korean culture at Los Angeles Korean Festival with authentic Korean food, cultural performances, vendors, and pop music. Free.

Auto show
October 4 - 7, 2018
Anaheim (30 miles SE)
Check out 600 new vehicles, test drive more than 80 models, and see exotic cars on display at the Orange County International Auto Show at the Anaheim Convention Center. Free for kids age 12 and younger.
Concert in the desert
October 4 - 7, 2018
Joshua Tree (139 miles east)
Smaller than the Coachella Valley festivals, Fall Joshua Tree Music Festival is an alternative "family-friendly global music experience" in the Mojave desert at Joshua Tree Lake RV & Campground. Repeats in May.
Horror film festival
October 4 - 9, 2018
multiple locations
Beyond Fest is "a world genre film festival dedicated to delivering the best in horror, sci-fi, fantasy, and badass cinema" at the Aero Theatre in Santa Monica and Egyptian Theatre in Hollywood.
Jazz festival
October 4 - 14, 2018
Los Angeles (multiple locations)
Angel City Jazz Festival promises "the most innovative and original national and international jazz musicians."
Halloween on a farm
October 4 - 31, 2018
multiple locations
Enjoy pumpkin patches, hayrides, and corn mazes.
Los Angeles
Orange County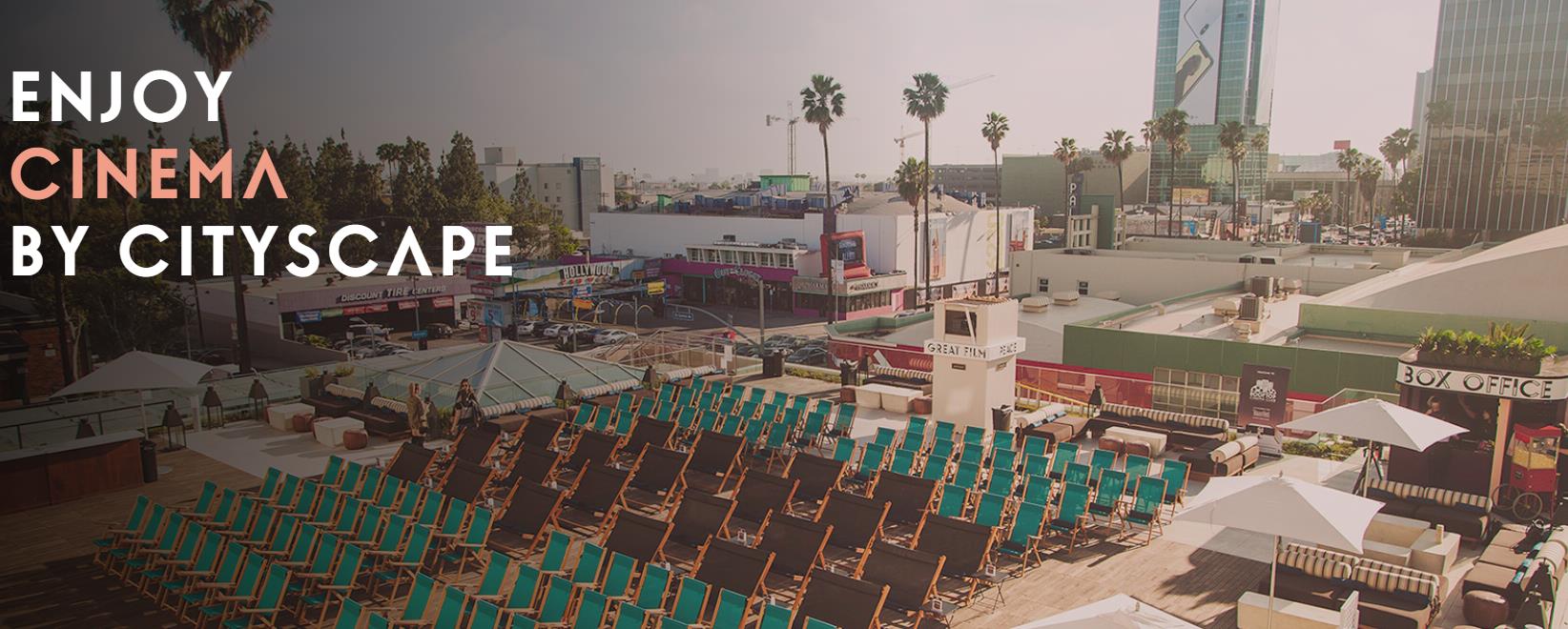 Rooftop theater
October 4 - 31, 2018
Downtown & Hollywood
Watch classic and contemporary films under the open sky on a deck chair at Rooftop Cinema Club either downtown at Level (age 18+) or in Hollywood at NeueHouse (age 21+ because it has a bar). If their website does not display all movies through Oct. 31, you may need to select a date manually.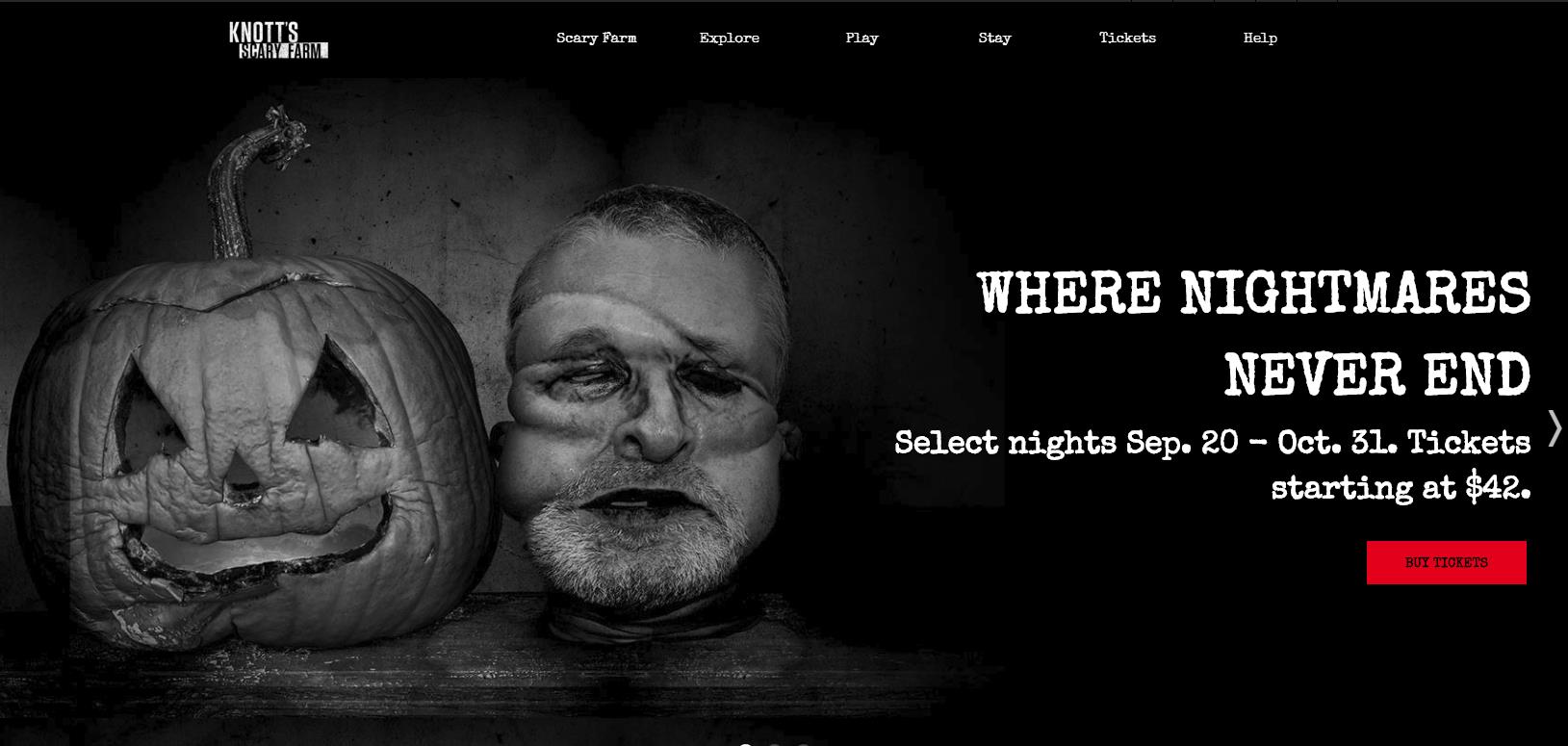 Knott's Scary Farm
October 4 - 31, 2018
Buena Park (25 miles SE)
Knott's Scary Farm is an evening event with dozens of attractions that include mazes, shows, scare zones, and rides, plus 1,000 monsters roaming the grounds of Knott's Berry Farm, for age 13+. Open Thursday to Sunday, plus Oct. 24 & 31.
Haunted house in Laguna Hills
October 4 - 31, 2018
Laguna Hills (50 miles SE)
A ticket to Scary Place gets you unlimited same-day visits to "three floors full of haunted attractions," including two mazes, a haunted ride, and live entertainment at Laguna Hills Mall. Expect lines.
Haunted ship
October 4 - Nov. 2, 2018
Long Beach (26.2 miles south)
Dark Harbor promises 7 haunted mazes, monsters, a 4D theater, immersive attractions, entertainment onstage, themed bars, and concession food at the Queen Mary. Expect lines. Closed Mondays, Tuesdays, Wednesdays except Oct. 31.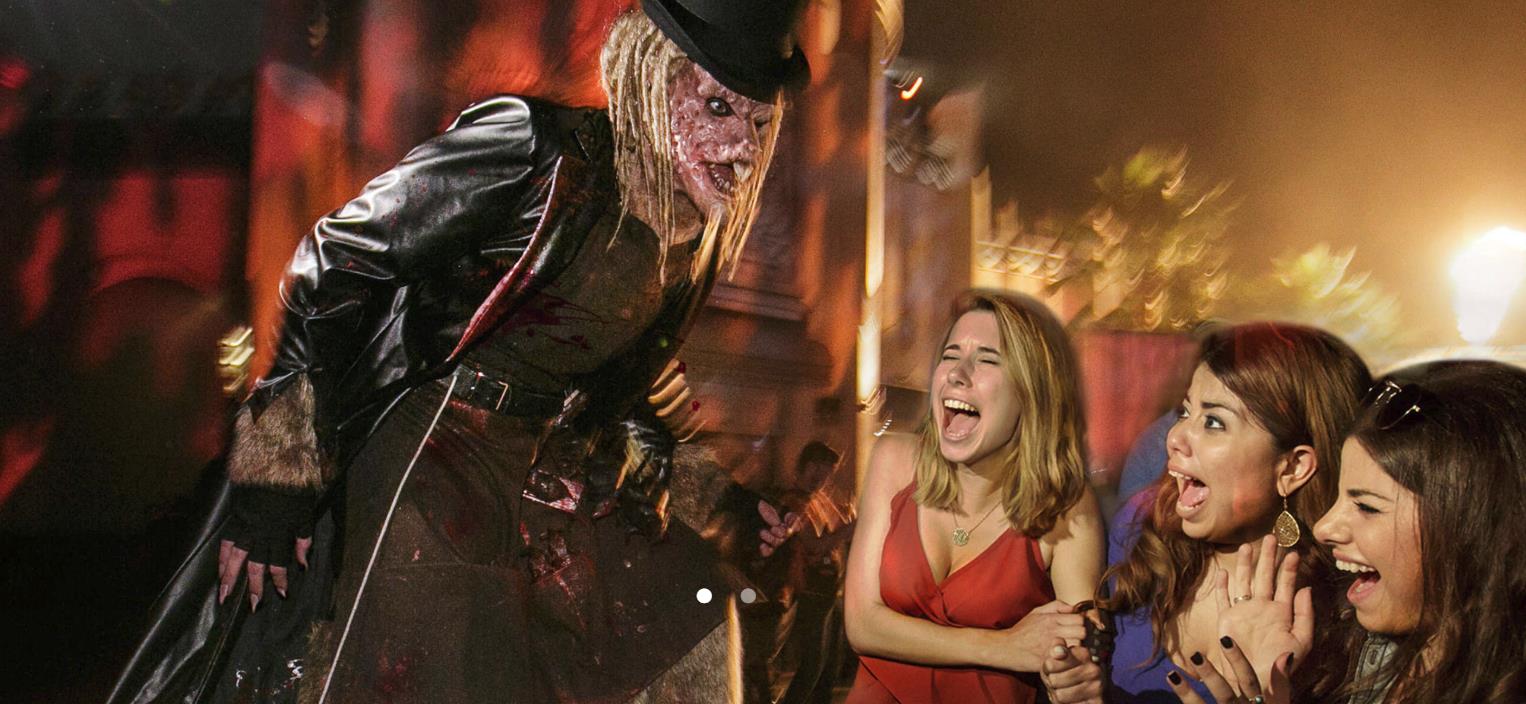 Halloween at Universal Studios
October 4 - Nov. 3, 2018
Universal City (10.4 miles NW)
Halloween Horror Nights offers eight haunted mazes, a stage show, a terrifying tram ride, a zombie attraction, and scare zones at Universal Studios Hollywood. Suggested age 13+. No costumes or masks. Schedule.
Ticket deal $75 to $85 (Oct. 11+)
Greek festival
October 5 - 7, 2018
Los Angeles (2.9 miles west)
Enjoy Greek food made by 10 restaurants, wine, beer, music, dancing, and carnival games for the kids at L.A. Greek Fest at St. Sophia Cathedral.
Wine & food festival
October 5 - 7, 2018
Newport Beach (47 miles SE)
Newport Beach Wine and Food Festival is "where beautiful food and people meet," according to the Huffington Post. Try tastes from 15 different gourmet restaurants each day and sip 200 varietals from 60 wineries, with smooth music at Newport Beach Civic Center. The Thursday event is sold out.
Oktoberfest
October 5 - 27, 2018
Torrance (14.9 miles south)
Billed as the oldest in Southern California, Oktoberfest is a high-energy celebration of German beer, food, and music, with a band from Germany and contests at Alpine Village for age 21+ on Fridays and Saturdays, and all ages on Family Sundays.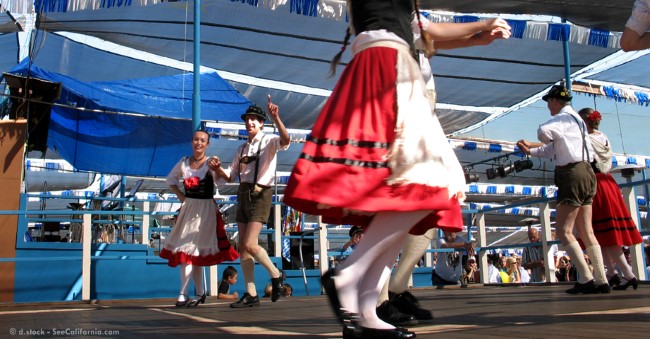 Oktoberfest
October 5 - 28, 2018
Anaheim (32.5 miles SE)
Oktoberfest has German food, German beer on tap, live bands, polka dancing, and entertainment indoors and outdoors at The Phoenix Club on Fri., Sat., and Sun. Children age 17 and younger are free.
Keith Urban
October 6, 2018 (7:30 p.m.)
Downtown (0 miles)
Keith Urban plays the hits that won him four Grammy Awards plus songs from his new album "Graffiti U" at Staples Center.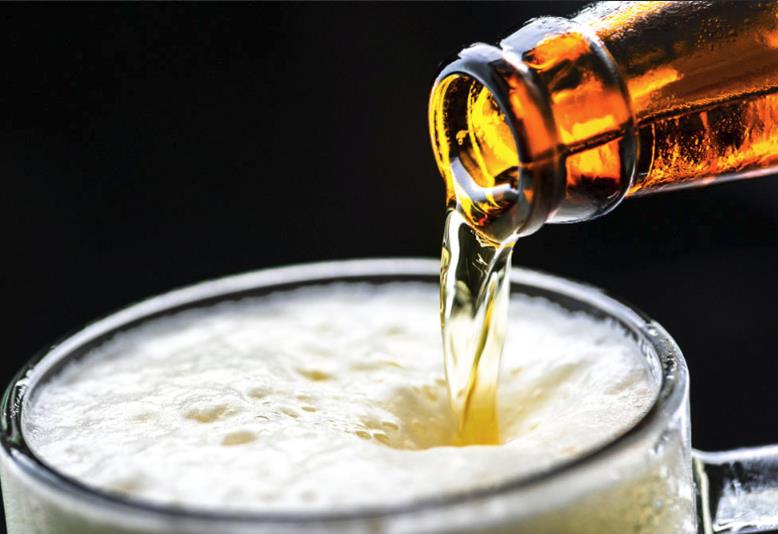 Beer festival
October 6, 2018 (3 p.m., VIP 2 p.m.)
Westlake (1.2 miles north)
LA Beer Festival promises unlimited samples from 80 breweries, food trucks, a DJ, and live music outdoors at Los Angeles Center Studios for age 21+.
Movies on the beach
October 20 - 21, 2018
Huntington Beach (40 miles SE)
Buy a ticket online to see popular films at BeachFront Cinema at Huntington State Beach. Read what to bring with you on the guidelines page.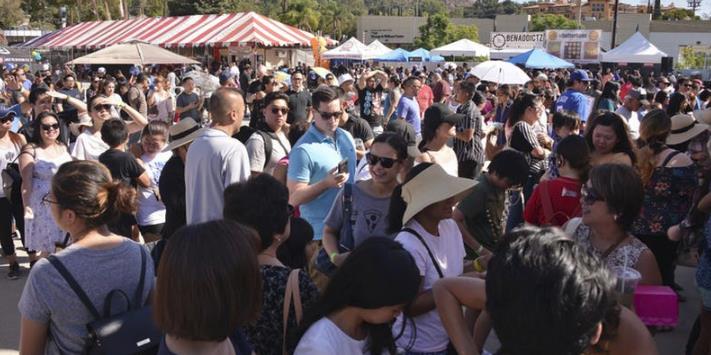 Phillipines food festival
October 27, 2018 (noon, early entry 10 a.m.)
Santa Ana (33.2 miles SE)
Eat Play Move LA features Filipino dishes (Ube cronuts, Ube baklava, Abobo burritos, Buko Pandan lattes, paella), stage entertainment, a children's area, and a beer garden at Boomtown Brewery.
Ticket deal $2.50 (early entry $10)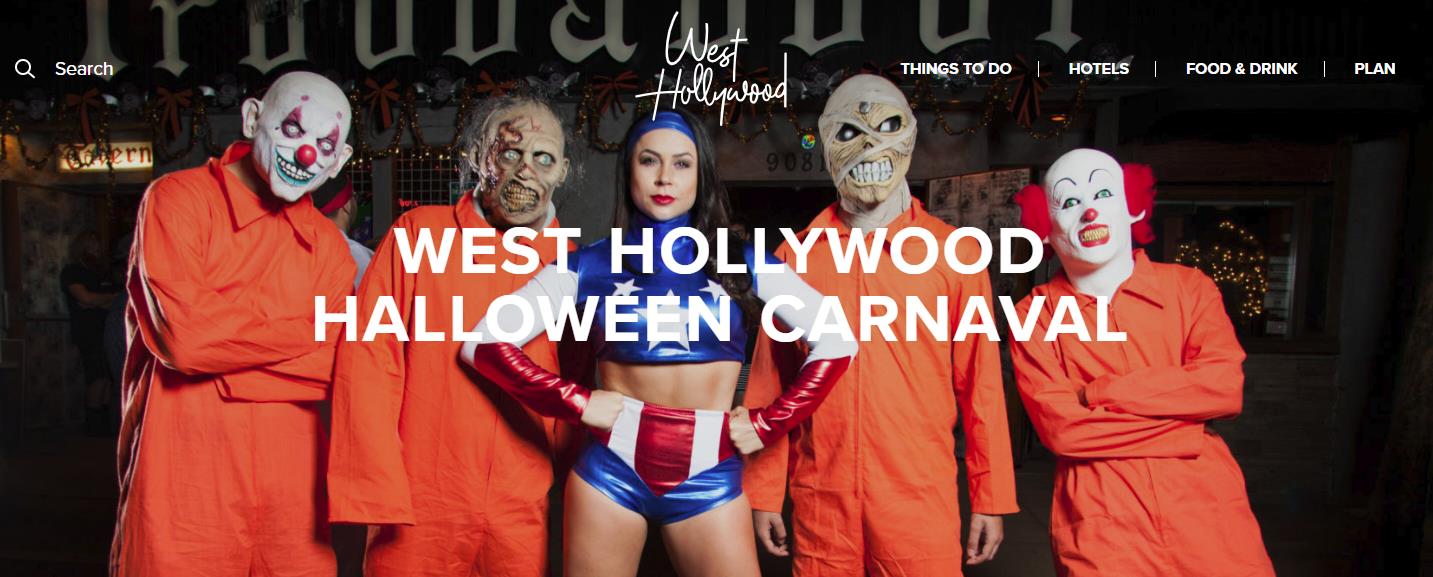 West Hollywood Halloween Costume Carnaval
October 31, 2018 (9 p.m.)
Hollywood (8.7 miles NW)
Often considered the largest Halloween street party in the world, there's really no better place to be on October 31st. Sure, the crowd is huge (like, a half-million people huge) and a bit belligerent, but the amazing display of costumes and general merry-making spirit deem it at least a worthy stop, if not your main destination for the evening. There will be dancing, drinking and many mid-parade costume contests.